SEGANTINI AND ARCO
"Even though I left the country I was born in before I was five, it has remained before my eyes, in my mind and heart as though I had left only yesterday".
Giovanni Segantini
---
The relationship between Giovanni Segantini and Arco – the town in the Trentino where the artist was born in 1858 – is complex, profound and not yet fully told. This small town that stands with one foot in Mitteleuropa and the other in the Mediterranean – and which Segantini never saw again after his early childhood years – is today one of the places where the debate on divisionism, symbolism and the striving for modernity that concerns the years between the late nineteenth and early twentieth centuries is still open.
The "Segantini and Arco" project founded in the context of the close collaboration between the MAG and the Mart, comprises a museum exhibition at the Galleria Civica G. Segantini and a research programme. Both promote the town of Arco as a location associated with Segantini and develop a network of studies and relationships with institutions and experts of Segantini around the world.
The project offers the visitor many resources to understand Segantini and his time: the collections of the Galleria Civica G. Segantini, with paintings by the artist and his contemporaries such as Andrea Malfatti, Eugenio Prati and Vittore Grubicy; and the exhibitions, which make it possible to plan comprehensive and packed programmes – as in the case of "Divisionisms after Divisionism" show which in 2016 was closely linked with "The painters of light", an international event presented in Madrid and Rovereto.
The Segantini Map is instead an interactive multi-touch installation that allows visitors to see images on large screens of all Segantini's works conserved in international public museums. For those who go deeper into the documentary aspects, a second interactive installation, Segantini Doc, offers an unprecedented focus on the diaries and correspondence of the great painter, on publications, reproductions and historical photographs.

The "Segantini and Arco" project also has an important publishing dimension. Our aim is to provide quality resources to scholars and art lovers, and to advance the state of knowledge on Segantini with publications and study days. Under the name of Segantiniana, we publish new studies and research, including the first Italian edition of Segantini's reference biography, written in 1902 by Franz Servaes. Until 2015 this volume did not exist in Italian: today it can be bought at the Galleria Civica Segantini and at the Museo di Riva del Garda, and the full text is available for reading online.
"Segantini and Arco", curated by the Mart's curator, Alessandra Tiddia, is a project developed for MAG, the Museo Alto Garda, in the spaces of the Galleria Civica Segantini, Arco.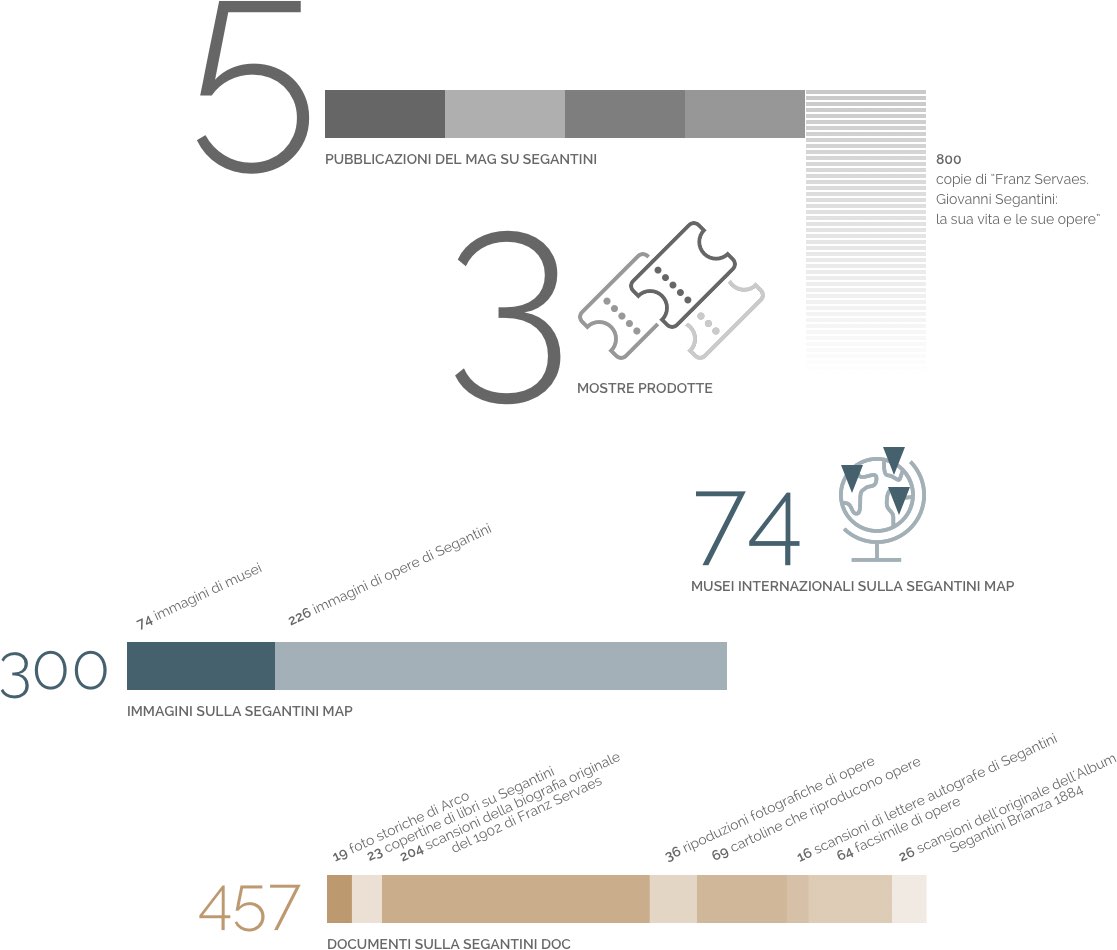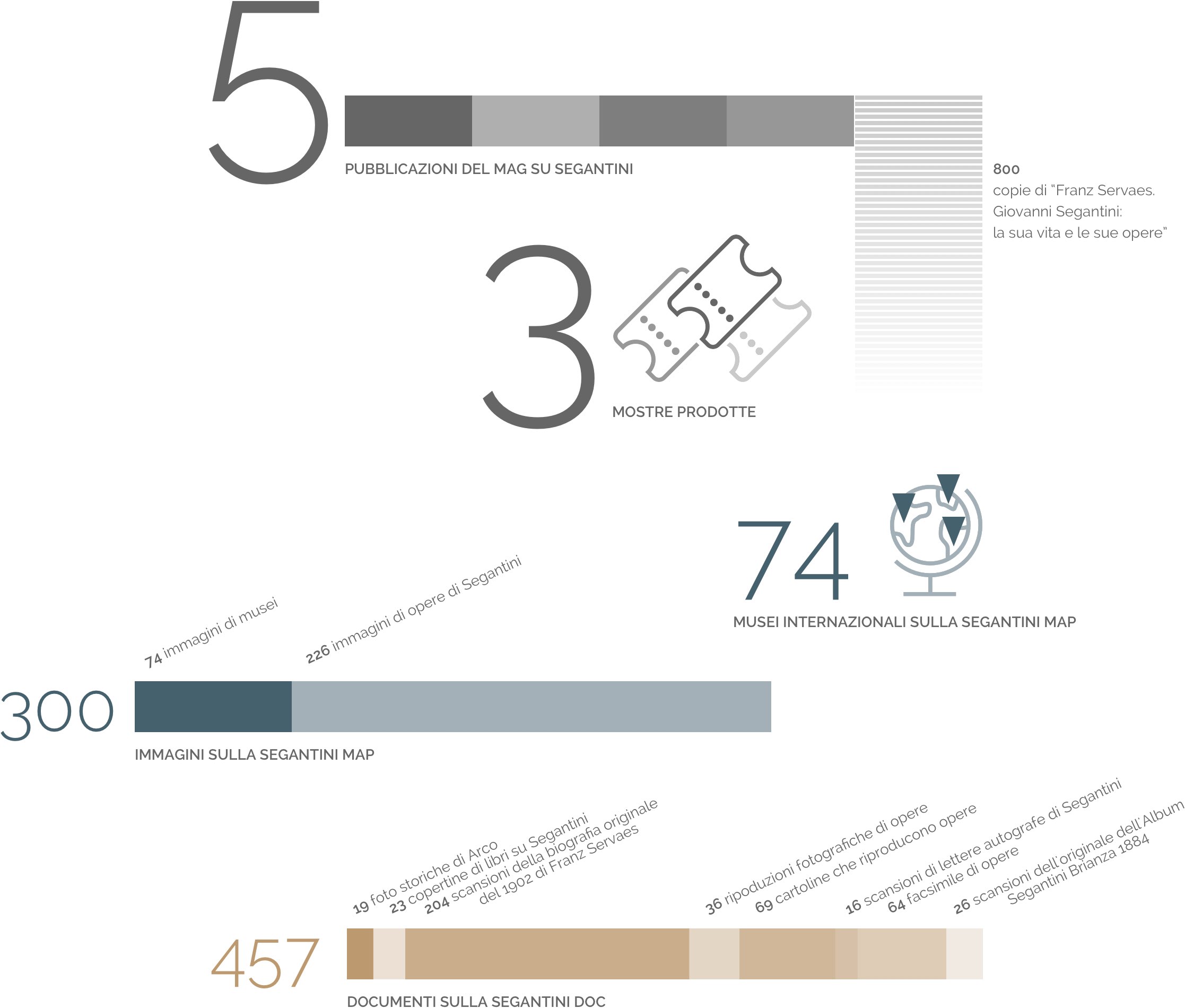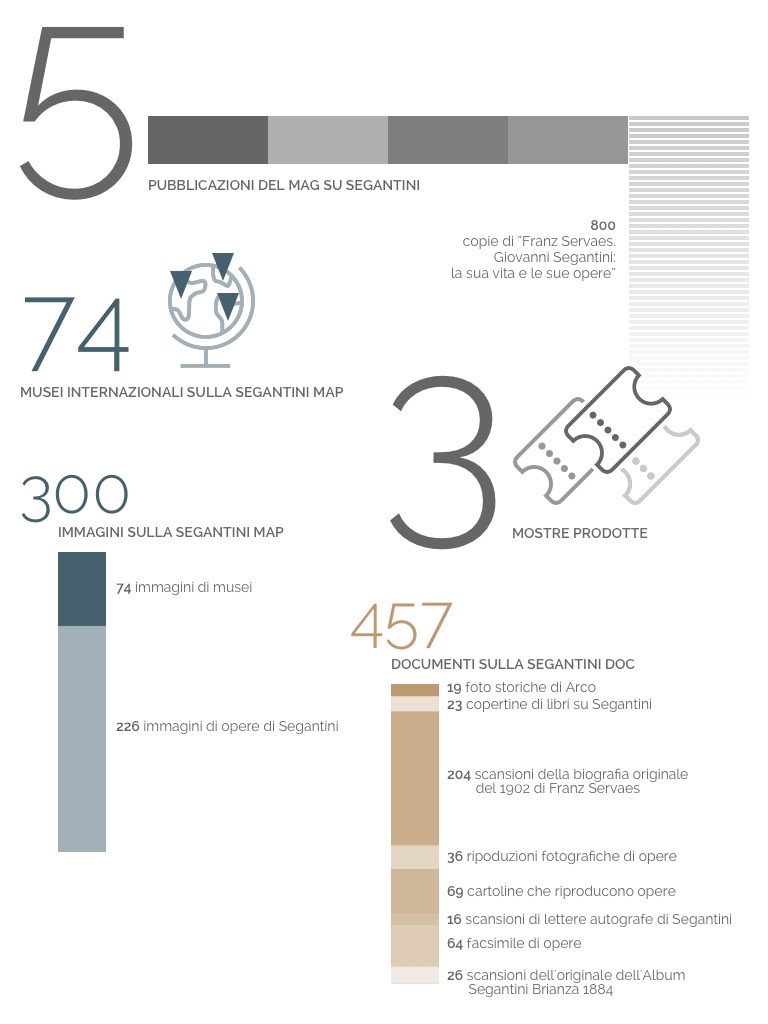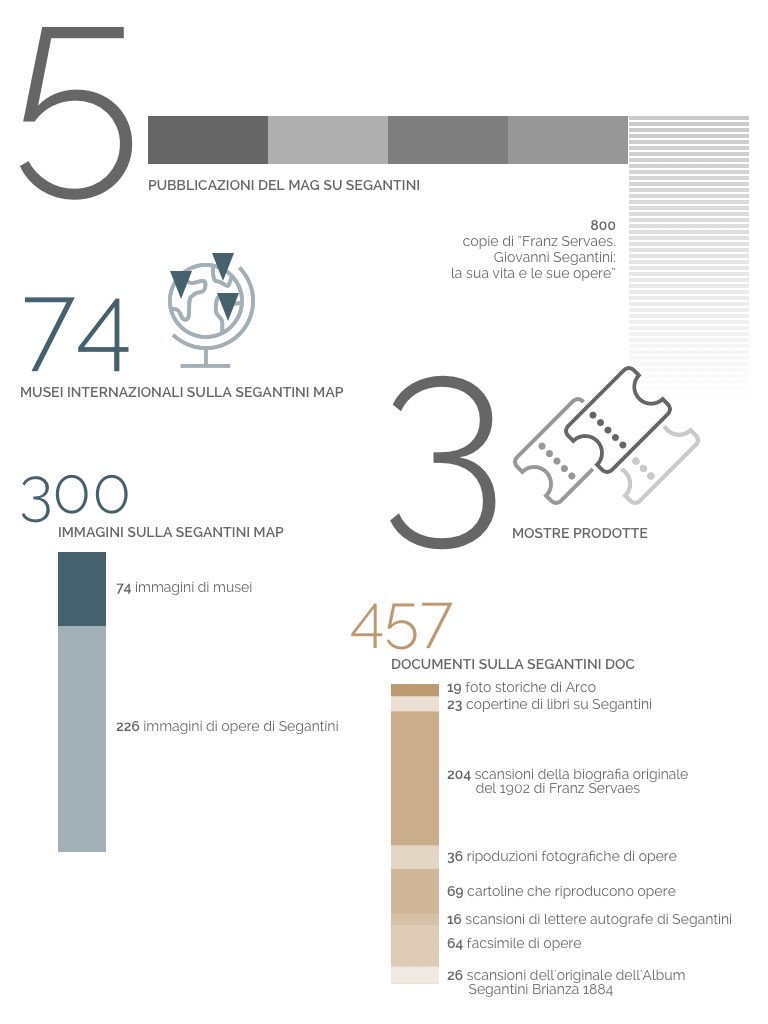 2014

The MAG and the Mart launch the "Segantini and Arco" project

Mapping of works by Segantini around the world

| | | |
| --- | --- | --- |
| | 2016 | |

2018

Ampliamento dell'allestimento permanente con le nuove acquisizioni del comune di Arco e prestiti da Mart e privati cittadini

Nuovo servizio di audioguide e didascalie in Braille per visitatori ipo e non vedenti in collaborazione con la sezione provinciale di Trento dell'Unione Italiana dei Ciechi e degli Ipovedenti

Presentazione Segantini Kids, il kit per bambini/e alla scoperta della Galleria Civica G. Segantini

Giornata di studio Segantini in mostra. Per la storia delle esposizioni segantiniane

2018

The permanent exhibition is extended with the new acquisitions of the Municipality of Arco and loans from Mart and private citizens

New audioguide service and caption in Braille for blind people in collaboration with the Provincial section of Unione Italiana dei Ciechi e degli Ipovedenti

Presentation of Segantini Kids, kit for children to discover the Galleria Civica G. Segantini

Study day Segantini in mostra. Per la storia delle esposizioni segantiniane

2019

Ampliamento dell'allestimento permanente con prestiti dalla collezione della Cassa Rurale Alto Garda

"Sulle tracce di Segantini": Passeggiata nel centro storico di Arco con visita ai luoghi segantiniani della città

Pubblicazione di "Segantiniana – Studi e ricerche vol III"

2019

The permanent exhibition is extended with loans from Cassa Rurale Alto Garda collection

"Sulle tracce di Segantini": walk in the center of Arco and visit to the Segantinian places of the city


Publication of "Segantiniana – Studi e ricerche vol. III"