SERVAES TALKS ABOUT SEGANTINI
The life of the artist told by Franz Servaes, in our 2015 translation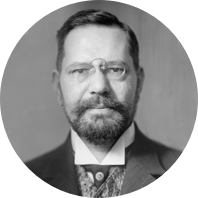 FRANZ SERVAES
Cologne, 17 July 1862 – Vienna 14 July 1947
---
Thanks to the "Segantini and Arco" project, Franz Servaes's book, "Giovanni Segantini. Sein Leben und sein Werk" has been translated for the first time into Italian. It was originally published in Vienna in 1902, three years after the artist's death, commissioned by the Imperial and Royal Ministry for Religion and Education.
The text can be browsed in full online on this page, or by following this link. The volume has been edited by Alessandra Tiddia, and the translation is by Andrea Pinotti.
The book by Servaes is the most prestigious of all the monographs on Segantini. The Austrian ministry was very keen on producing this volume, as it sought to celebrate an illustrious son of the Empire: immediately after the great success of the artist's paintings at the Vienna Secession exhibition of 1901, a special committee was appointed. Among them were Franz Wickhoff, founder of the Viennese Art History School, two artists of the Wiener Werkstätte – Koloman Moser and Ferdinand Adri – and Franz Servaes.
Born in Cologne on 17 June 1862, after his studies Servaes worked as a literary and theatrical critic, and was invited to the 1900 Paris Universal Exposition. But he also wrote a great deal about the visual arts: about Edvard Munch in 1894, Hans Thoma in 1900, and Max Klinger in 1902. In his Segantini book, Franz Servaes saw a succession of pictorial attempts to solve a fundamental question of light and illumination, but also a progressive leave-taking from the "specifically Italian means of representation" and a drawing closer to the figurative manner typical of "Nordic sensibility". It is therefore an analysis in which there are also some ideological elements falling within the scope of the Germanic cultural landscape of the time.

But any case, this text is a goldmine for its meticulous documentation: Servaes takes into consideration every subject, motif and formal element of Segantini's work. But he also visited and knew in person all the places where the painter had lived, interviewing witnesses and collecting documentary material. His wanderings through Arco, in particular, is surprising. In the first pages of the book, the birthplace of Segantini is described in great detail, and in the final chapter the critic links the great painting of the mature Segantini to the tormented memory of the Trentino landscape.